Barra Lodge is situated 485km north of Maputo in one of the most picturesque areas in Mozambique, with spectacular views of pristine beaches and the crystal clear waters of the Indian Ocean.
Access by road is a pleasant drive by tarred road suitable for the passage of a normal vehicle. However, the last 7km's leading to the lodge is a sand road where a 4x4 is necessary. Those with normal vehicles will be collected from a safe parking area.
You may also elect to fly to Inhambane where customs and immigration services are available.
Barra has secluded, unspoiled beaches, bordered by the Inhambane estuary on one side and the sea on the other. The lodge is nestled among groves of coconut trees; all rooms have exquisite beach and sea views.
The warm Indian Ocean offers safe bathing all year round. The wide open, clean beaches offer endless hours of strolling pleasure.
Boat launching is smooth and easy. Ski boat fishing is excellent and Barra is a venue of frequent game fishing competitions. The largely unexplored reefs within close proximity to the lodge offers endless pleasure for scuba diving and snorkelling.
Accommodation
Casitas:
Traditional Casitas - made of thatch, brick and reeds - create a charming atmosphere. The Casitas are fitted with two single beds, a shower and toilet, en-suite. All have sea views and are virtually on the beach.
Self catering Cottages:
Each unit comprises of 2x twin-bedded rooms & 2 beds in the lounge, all beds with mosquito nets. Shower with separate toilet. Bring you own beach towels - they are not provided.
All the basic amenities are supplied including a fridge, 2-plate gas stove, basic cutlery & crockery.
Restaurants
While you relax to the sight and the sound of the waves gently breaking on the shore, indulge your taste buds at our restaurant. Fresh seafood dominates the menu with prawns, calamari and fresh line fish remaining the ever-popular favourites.
The tropical beach bar creates an atmosphere of relaxation where the best fisherman's yarns are heard. Watch the beautiful sunsets, participate in beach volleyball, pub games or simply sip and enjoy exotic cocktails. Pub lunches and snacks are served daily.
Weather
Being in the tropics it rarely gets cold. Dress is casual at all times. A tracksuit or jersey is recommended in case of occasional cool evenings. Sun hat, cap and sun protection lotion is recommended.
The area is relatively dry, with an average yearly rainfall of 1000mm. The rainy season is between November and March and usually occurs as short, sharp showers.
The climate is suitable for all year holidays with summer being hot and winter being slightly cooler. Temperatures can be up to 30°C in summer and 22°C in winter. Seawater temperature varies from 23°C to 29°C.
Health
Malaria Profolaxis is a MUST in Mozambique. Some strains of parasites in Mozambique are resistant to Chloroquin. Speak to your medical advisor.
Activities
* Snorkelling - equipment available for hire
* Scuba Diving - fully equipped dive centre with all necessary facilities
* Catamaran Yacht
* Charter Boat fishing
* Fly-Fishing
* Dhow Trips
* Salt-water mangrove with crystal clear waters
* Sightseeing - Inhambane city is steeped in history.
* Other - horse riding and Xumbugs (sea kayaks).
The lodge was great. We just found that the casitas need a little maintenance, but other than that everything was good. We will be back, thanks.
The Lodge within itself is great. The service was good and the location is fantastic. I will definitely bring the kids next time.
We enjoyed our stay and everything was perfect. Only one problem. No shade for the cars. Please think about it and try and make a plan.
The place was everything I expected. The setting is beautiful the facilities good and the staff very friendly and helpful. I will definitely come again and also tell my friends.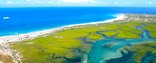 Barra Beach Club combines the privacy of an exclusive Boutique Hotel, with all of the authentic charm and unspoilt beauty of Mozambique situated on its own private beach just outside Inhambane, Mozambique's paradise tourist destination.
From:
R1275.00
per person sharing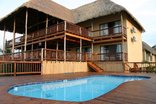 Vista do Mar, derived from the Portuguese meaning "view of the sea", is a brand new, upmarket lodge located on a pristine stretch of unsurpassed Barra Beach beachfront only minutes from Inhambane, Mozambique.
From:
R750.00
per person sharing
Tofo Beach Accommodation consist of 3 fully equipped, self-catering cottages. Casa Derika is on the beach in Tofo and the other 2 cottages in Tofinho, the famous SURFING spot. All 3 are 50-80m away from the sea, have stunning sea views and are daily serv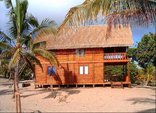 Positioned amongst a palm tree plantation atop the tall dunes which line the popular lighthouse beach, Montanha Lodge offers comfortable and spacious accommodation in 2-4 or 6-8 sleeper chalets. The lodge is fully furnished and equipped.