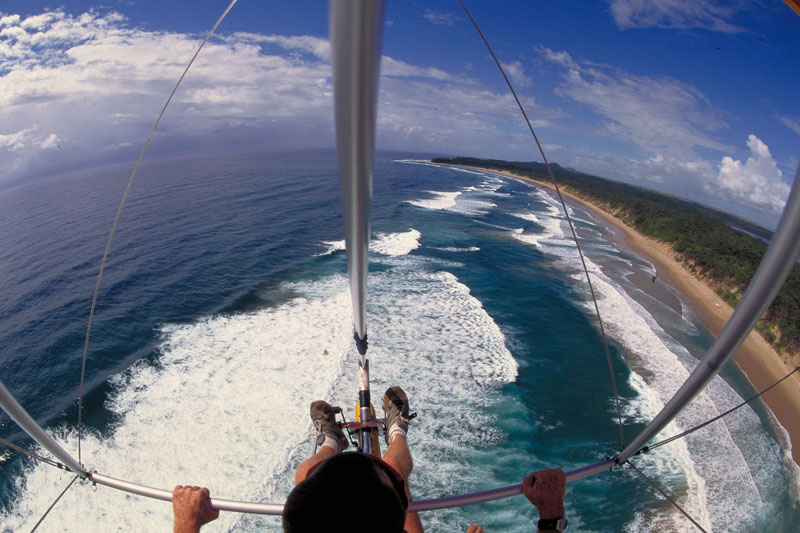 Ponta Beach Camp - Main Camp
- This camp is much larger and set back a little from the beach, under the coastal trees. There are essentially two types of accommodation options available in this camp:
Barracas
– which are traditional, reed constructed "Mozambique style" rooms.
Safari Tents
– which are the smaller, classic safari tents.
Main Camp – Barracas (Standard and Superior)
The only difference between the Standard and Superior Barracas is the quality of the mattresses and the location of the units. The Superior Barracas are generally situated in a more favorable, shaded position and have superior hotel quality mattresses. The standard units only have twin beds with budget sponge mattresses and are not as protected from the sun and road noise.
These units are situated behind the beach camp, between the Restaurant and main campsite entrance road. These budget units are constructed out of traditional reed materials, and designed in the typical Mozambican style. The units are fairly spacious, and well ventilated. As they are next to each other, they are not very soundproof.
Main Camp - Standard Barracas:
Four of these units have two single beds and one unit has 3 single beds. These units have either two single beds or one double bed. Only one unit has one single bed. There are also Family Units which accommodate 4-8 people.
All beds are fitted with mattress and pillow protectors. They all have a pillow per person, a fitted bottom sheet and light duvet.
NB: During the winter months – an extra blanket or duvet may be required. Please take your own extra blanket if you feel you may be cold
Each unit is equipped with a fan, mosquito net, and plug point (2 pin plug). There is one central ceiling light. Subject to load demands electricity to the rooms may be switched off between 6.00 am and 3.00 pm.
Plug points have limited capacity, are for charging cell phones and hair dryers only. Fridges and portable fridges are not allowed in the rooms. Plug points can be hired in the main dining area should you wish to plug in your own fridge/freezer.
Extra Beds:
Extra beds are not possible in the standard units but are possible in some of the Superior and Family Units at the relevant price list rate.
Service:
The rooms are not serviced. Should you require them to be cleaned, please notify reception what time you would like this done. The room occupant must be present when the rooms are being cleaned.
Main Camp – Safari Tents (Standard and De Luxe)
Our Safari tents are custom made tents, specifically designed with the Mozambican heat and mosquitoes in mind. They have been designed to ensure that they are well ventilated, yet mosquito proof. They have 4 (2 each side) large mosquito proof zipped windows, and the roof pitch at either side is open to allow through flow of air (also covered with mosquito gauze).
They have a double zipped door, so the outer canvas door can be left open, and the inner mosquito gauze door still lets air in.
The only difference between the Standard and Superior Safari tents is basically their situation in the Main Camp.
The Superior Safari Tents are generally situated under the trees and are more widely spaced for greater privacy. Each individual tent has its own private Gazebo protecting it.
The Standard Safari Tents are utilized generally by large groups, dive schools and student groups who want to be together. They are grouped together under a large communal gazebo. Both types are equipped and fitted out exactly the same. These tents provide a relatively comfortable camping experience without the hassle of bringing and erecting your own tents. The price for these tents is almost the same price you would pay for a campsite in the adjacent public camp ground.
All tents have 2 single beds. These are steel spring camp beds, and have superior hotel quality mattresses.
Beds have a fitted bottom sheet, and light duvet, and pillow.
It is not possible to accommodate a double bed, or extra bed in these tents. In exceptional circumstances, for infants 2 years and under, small mattresses may be brought and placed between the beds.
NB: During the winter months – an extra blanket or duvet may be required. Please take your own extra blanket if you feel you may be cold
Each unit is equipped with one central ceiling light. There are no fans or plug points.
Extra Beds:
It is not possible to fit an extra bed in any of the tents
Service:
The tents are not serviced at all.
What to Bring: - Personal Requirements
Towels – both Beach and Bathroom (no towels are provided) toiletries, mosquito repellent, suntan lotion, torch (as in SA, power outages sometimes happen). Beach Umbrellas and Hats (Gazebos can be hired from the locals on the beach)
If you have a preferred pillow, you are most welcome to bring it along. In winter June, July, August an additional light blanket may be a good idea.
Main Camp – Communal Ablution Facilities
There are 2 large communal ablution blocks servicing the Main Camp. The one nearest the Barracas has a dedicated men's wash room, with 3 basins and a urinal.
There is a dedicated ladies wash room that has 3 basins and a dedicated ladies shower.
In addition there are 3 separate individual toilets, and 2 separate individual showers
The other ablution block is situated near the restaurant and tents. The men's side has a urinal, 2 wash basins, 2 toilets, and 2 showers. The ladies side has 2 wash basins, 3 toilets, and 2 showers.
All showers have both hot and cold water.
Please remember to bring your own towels and toiletries as none are provided.
Restaurant & Self Catering Options:
Barraca de Ponta - In house Restaurant and Pub
For those that don't want the hassle of cooking, Barraca de Ponta, our popular Mozambique Restaurant, is situated in the Main Camp, just 30 meters away. It offers very affordable Breakfast, and Full Board meal options. It is open from 7.00 am to 9.00 pm, depending on seasonality.
Pre paid discounted meal voucher "Specials" are usually available. The flexibility of the meal voucher system allows you the best of both worlds – to eat out somewhere else if you want to, or have you own braai when you feel like it
If you prefer to braai (BBQ) or cook your own food, the self catering facilities consists of a large dining area and kitchen. (see separate page – Barraca de Ponta)
Main Camp – Self Catering Kitchen / Braai Boma and Dining area:
The kitchen area is equipped with a double gas hotplate, and electric kettle, or urn. There is also a 220l chest deep freeze for the use of Main Camp residents. Please note this is provided solely for the purpose of storing frozen meat products. It is not a chiller for refreshments, alcohol, etc.
Fridge Hire:
For those that would prefer their own private fridges, there are a limited number of fridge / freezer combinations for hire, so pre – booking is essential. They are approximately 220lt capacity.
What's Provided:
Kitchen utensils. Cooking utensils (Frying Pan, Pots, Pans,) braai, braai grids, egg lifter, big spoons, plates, basins and bowls. Personal crockery and cutlery are not provided
What to Bring: personal crockery and cutlery, (glasses, coffee mugs, knives, forks, etc) braai tongs, bottle opener, can opener, corkscrew.
Braai Facilities:
There is a large braai area, with 2 communal braais, adjoining the dining area. Braai grids are supplied. This is for the sole use of the Main Camp residents, and supplied free of charge. If you intend braaing bring your own charcoal and firelighters. Both wood (soft – not good Braai wood) and charcoal is available to buy at Ponta, along the road, or in the market.
Dish wash Facilities:
There is a large sink for washing dishes and crockery. Our house keeping staff will willingly wash up your dishes, obviously at your own risk. We cannot accept responsibility for any losses or breakages if clients avail themselves of this service. Dish wash liquid is provided.